På grund av sjukdom så kommer resterande rapporter (Gotthard, Amorphis, Twisted Sister, Slaughter och Mötley Crüe) att dröja längre än väntat. Som plåster på såren styr vi istället upp en tävling där du kan vinna STEEL PANTHERs senaste platta "Balls Out".
Det är väldigt enkelt – det enda du behöver göra är att skriva vad bandets bassist, Lexxi Foxxx tänker på på bilden under. Skicka dina svar (MAX 3 alternativ) till sara@metalguide.nu tillsammans med kontaktinformation (Namn + Epost) senaste den 30:e juni för att delta. Märk mailet "Balls Out". I juryn sitter personer från Hårdrock.com och personer som inte är associerade med Steel Panther.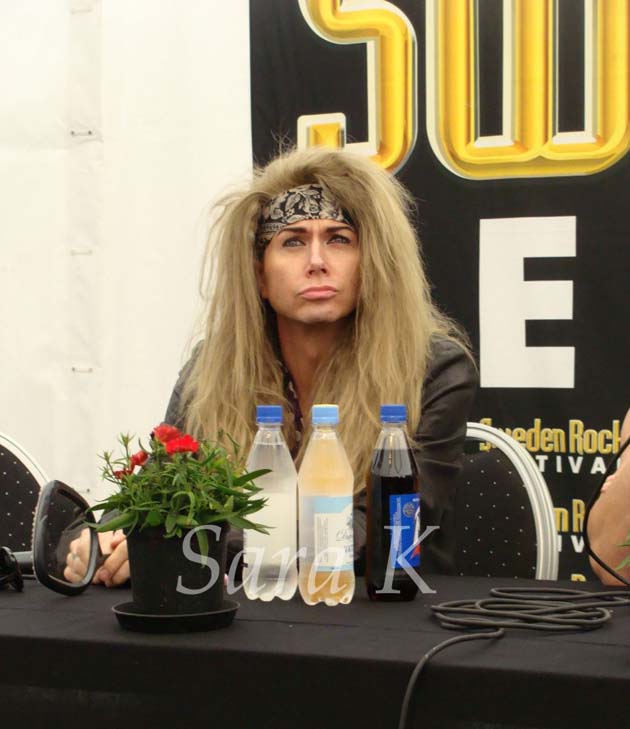 Due to illness the remaining reports (Gotthard, Twisted Sister, Amorphis, Slaughter and Mötley Crüe) will be delayed. In the meantime, we host a competition where you can win STEEL PANTHERs latest CD BALLS OUT.
It's really simple. All you have to do is to caption what the bands bassplayer, Lexxi Foxxx is thinking about in the picture above. Send your captions (MAX 3) to sara@metalguide.nu together with contact information (Name + Email) before JUNE 30th (GMT+1) to compete. This contest is worldwide and the jury contains people from Hårdrock.com and people not associated with Steel Panther.
LYCKA TILL ALLIHOPA!
GOOD LUCK EVERYBODY!