During a face-to-face interview at Debaser Slussen in Stockholm (Sweden) with Joe Hottinger, guitar player in the American melodic hard rock band Halestorm, it turned out that he had a lot to say about a lot of things. Mostly about music, of course, but also about other things.
It also turned out that he's down to earth and really "one of the good guys". Just after a couple of minutes talking to him it felt like I've known him a long time. Yeah, he's a rock star for sure, but one with his feet firmly on the ground and that's always a nice thing.
You're from Wisconsin. What was it like growing up there and when/how did you "discover" the guitar?
– It was nice growing up there, I liked it. I was around 12-13 years old when I really started to get into rock by listening to rock radio. They played a lot of different stuff but it was Nirvana that was number one for me. Later on I really got into Jeff Buckley. Anyway, as soon as I picked up a guitar I noticed that I quickly learned how to play it. Well, that was it basically, I had found "my thing".
I've heard that you collect other musicians guitar picks and keep them in a bowl in your parents house in Florida. Can you tell me about it?
– Haha, well, I'm not so serious about it, it's just a fun thing to do sometimes. Every once in a while I run into another guitar player and trade guitar picks. Other times I get them from friends etc.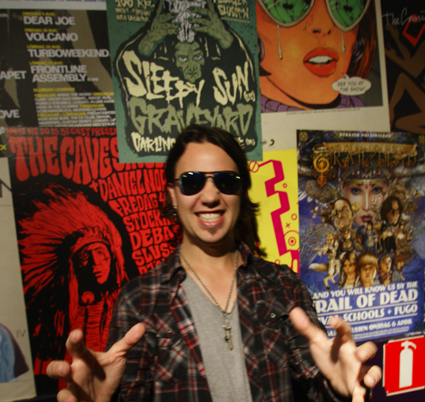 When you became a member of Halestorm in 2003, was it easy to be a part of the band right away or did it take some time before you settled in?
– I'll tell you there were no problems at all, it was really smooth. We hit it off right from the start and personally it felt just great that I finally had found guys to play with that were as dedicated as me. And I'll tell you a funny thing. The other day me and Lzzy talked about what it was like when we started out playing music live etc. It turned out that we did almost the same things at the same time – about one hour car drive from each other. We laughed about it and I guess it shows that this was meant to be.
You've once said that Lzzy Hale (guitar and vocals) is in charge of the bands politics. Can you explain that?
– It's just that she's so cool and really doesn't get upset until absolutely necessary, whereas me and the other guys in the band would have a hard time hearing/seeing certain things without getting really upset. So she's the perfect fit for dealing with all the politics that you have to deal with when you're in a band, like with record companies, promotors and so on. It really is a lot of things to sort out almost all the time.
Since there are three guys and one girl in the band, would you say that the guys are becoming more like girls or is Lzzy becoming more lika a guy?
– Haha… I guess we just get along and doesn't have to change a bit. We have no problems with each other and everybody can totally be who they are. That's the honest truth.
You live streamed "The Strange Case Of…" and at the same time chatted with fans, just before the album was released. How was that experience?
– It was absolutely great! I sure hope we could do something like that again in the future. It was just amazing with all the comments that just kept coming and coming. To interact with fans like that
is really nice.
Was the recording process different this time, compared to when you recorded your debut album?
– Yeah, you know, with the first one it was obviously the first time for us with a lot of the stuff going on. But now we felt more confident and it was more of an easy thing. It helped that we worked with the same producer, engineer etc.
You covered "Bad Romance" (Lady Gaga) on the "ReAnimate" EP. How and why did you pick that one?
– It was the fans choice, not ours. We put up long list of other artists songs at our web site and basically told the fans to vote for one of them. There was Metallica and a lot of other hard rock and metal bands on the list as well as more "unusual" choices. In the end "Bad Romance" was almost everboydy's choice. At first we didn't know what we we're gonna do with it, but we just sort of said "let's play it and see what happens". I think it turned out great and I'm proud of our version.
Would you say that you have your biggest fan base in USA?
– Well, right now that's the case, since we've been playing live a lot longer back home, and that's really the way to build a dedicated fan base. But I have to say that we're getting more and more popular in Europe. For example, it was absolutely crazy in the UK with sold out shows everywhere. Actually, there hasn't been a bad show yet on this European tour and now when this part of the tour is coming to an end, I just can't wait to come back.
So you like touring then?
– I love it! Being on the road is like home to me, and that's the truth. You now, I'm single and I like to see new things and meet new people so to me it really is like being on vacation. Especially over here i Europe where we haven't been everywhere, compared to USA where we've been all over the place.
Speaking of touring: Do you think "Live In Philly" (cd/dvd) showcases the Halestorm live experience?
– Hmmm, yeah, sort of. It's a nice live document of that era of the band. And I think, hopefully, we're gonna do another one on this tour.
Can you describe a typical day on the road?
– Some days, like today, are really busy with a lot of interviews and other stuff. And it's fun! Today we actually got up at 7AM and went to a radio station to play/talk. After that we got a chance to take a closer look at this beautiful city. And now I sit here talking to you and in a while it's show time. When we're done for the day I really hope I can go to Old Town and enjoy a nice India Pale Ale beer.
So you like beer?
– You bet! I'm a beer snob, especially when it comes to IPA. I also really like Russian Imperial Stout and German Dark Wheat. You know, I really like the fact that the micro breweries back home are so great at what they do. I could talk abut beer forever, really.
Well then, since I'm kind of a beer snob myself, I recommend you to try one of the High Frequency beers (one of the company owners is Anders Fridén/In Flames).
– I will definitely do that if I get a chance.
And finally, since we're in Sweden, I'd like you to write down the first thing that comes to mind when you read the five following names of famous Swedish musicians.*
– Sure, will do.
Also, thanks for taking the time and talk to me. You've been great.
– No problem, nice talking to you. And once again I have to say that it's always really nice to be in Sweden.
Words and photo (with the help of Arejay Hale): Magnus Bergström/hårdrock.com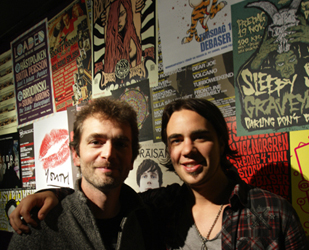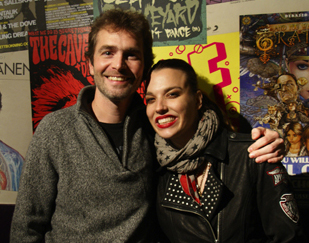 *Joe wrote down the answers himself, as you can see here.