Författare. Frilansskribent i musik- och filmtidningar (exempelvis Metal Hammer, Classic Rock, Drummer och Record Collector). Textredigerare på Bass Guitar Magazine.
Ja, ovanstående är bara några exempel på sysselsättningar som den 41-årige engelsmannen Joel McIver kan skriva på sitt visitkort.
Han har skrivit 21 böcker (fler om man räknar alla översättningsutgåvor) och antalet intervjuobjekt genom åren uppgår till över 800 musiker, skådespelare, regissörer, producenter etc.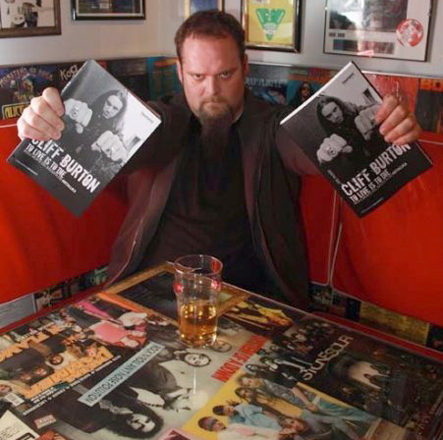 Välkända tidningar som Daily Telegraph och The Guardian anlitar honom då och då för att skriva exempelvis dödsrunor över avlidna musiker och en annan av Joels sysselsättningar är att skriva så kallade liner notes till cd- och dvd-skivor. Lägg därtill att han också syns i tv och hörs i radio med jämna mellanrum.
Hårdrock.com har tagit sig ett snack med mannen med många järn i elden om allt ifrån hans egna böcker till hans åsikter om andras. Vi passade också på att ta honom på pulsen när det gäller svensk metal.
Text: Magnus Bergström
Fotnot: Intervjun publiceras i sin helhet på engelska för att inte någonting ska gå förlorat i översättningen och för att läsaren ska få rätt känsla.
Inledningsvis bjussar vi på några boktips ur Joels egen hylla.
5 av 5
The Bloody Reign of Slayer
Ett absolut måste i bokhyllan för alla som tycker om hård metal. Att McIver har ett hjärta som klappar för Slayer är påtagligt vilket bidrar till äktheten.
4,5 av 5
Metallica – Justice For All
McIver's genombrott och av många ansedd som hans bästa bok. Fylld av intressanta detaljer såväl som författarens egna åsikter om bandet och dess musik.
4 av 5
Overkill: The Untold Story of Motorhead
Beskriver allt från åren innan bandet startades till dagens ikonstatus på ett både informativt och underhållande sätt. Och få kan som Lemmy kläcka ur sig det ena roliga – och ofta tänkvärda – citatet efter det andra.
Sabbath Bloody Sabbath
Den tunga musikens gudfäder har en brokig historia som McIver beskriver mycket, mycket detaljerat utan att det för den skull blir svårläst.
Slipknot – All Hope Is Gone
En biografi värdig de fascinerande maskerade männen från Des Moines och utan tvekan en bok som det inte går att lägga ifrån sig innan sista sidan slukats.
To Live is to Die – The Life and Death of Metallica's Cliff Burton
Ett fint personporträtt av mannen som avgudas av så många hårdrockare världen över. Och ja, den innehåller förstås också (intressant) information om Metallica.
…och så var det intervjun…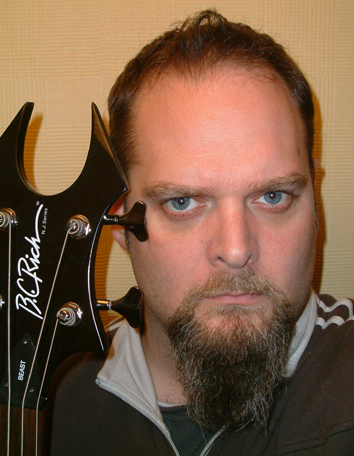 Your first metal album?
The first metal album I ever heard was Metallica's Master Of Puppets in 1988. I was 17. It was a really late introduction to metal. I had been buying LPs for five years or so before that and was a bona fide music obsessive: I used to write mini reviews of the albums I had. What a geek.
Your first metal concert?
Donington Monsters Of Rock the same year. It was Iron Maiden on the Seventh Son… album, supported by Kiss, Dave Lee Roth, Megadeth, Guns N'Roses and Helloween. I had ticket number 4444 and it was amazing, even though some drunk guy punched me in the face. Two kids died in the crowd that year, so it could have been worse. Although that was my first major show, I'd been to a ton of pub gigs before then: in fact, I may already have been playing bass in my own band at that point.
Five records that you have in your collection and you think every metal fan should own (please explain why):
Reign In Blood, Hell Awaits and Puppets for obvious reasons. Then two of the early Sabbath, Motorhead or Maiden albums, or if that stuff sounds too old to you, Beneath The Remains by Sepultura and Altars Of Madness by Morbid Angel.
How would you describe yourself?
One of the good guys, most of the time. This industry has more than its fair share of morons and I'm reasonably sure I'm not one of them.
Was it always your dream to become a writer and how did you start out writing?
Not at all, I didn't have any career dreams whatsoever. Writing just seemed like a good idea at the time. I was a teacher of English in Germany in 1997, and one of my students was a magazine editor so I did some writing for her. I slowly built a portfolio and in 1999 I got a job at Record Collector magazine. In 2000 I did my first book and in '04 my Metallica biog was a big enough hit so I could quit and work from home, where I've been ever since.
How long does it take from start to finish to write a book like, for example, Sabbath Bloody Sabbath?
It depends on what kind of writer you are. That one took about nine months to research and six months to write, but some books go quicker, some slower.
Do you have a favourite of all the books you've written?
The Cliff Burton book was the arrow that hit closest to the target, so to speak, but I'm proud of all 21 of them, and their 40 or so translated versions.
Did any of the books feel extra good/special to write due to good/personal relations with the band/artist in question?
It's nice when the subject approves of your work, but not essential. What feels best is when you do the best you possibly can.
Dream band/artist to write about?
Tom Waits or Miles Davis.
I'd say that you're best known for Justice For All – The Truth About Metallica and To Live Is To Die (Cliff Burton). Are you happy with the way these books turned out and have you received any comments from band members/family members about them?
Very happy. They sold in large quantities and reviewers almost unanimously liked them both. Lars told me that the Metallica book looked very professional, which was decent of him, and several musicians, most recently Robb Flynn and Adam Duce of Machine Head, have told me that they really enjoyed the Cliff book.
Best review of any of your books? (please explain why you think so)
Honestly, I don't remember, but it would undoubtedly be those that are written by reviewers who I respect. There have been so many over the years, most of which have been positive. I'm very fortunate. A ton of them are excerpted at the Books page at joelmciver.co.uk, for anyone who is interested.
Worst review of any of your books? (please explain why you think so)
In the early days I received two or three pretty savage reviews, and they were a bit unsettling at the time, but after a while you stop caring. If the readers like your stuff and your books sell well, reviews become irrelevant. No disrespect to the kind folks who continue to write about my stuff.
Personally my favorite of yours is The Bloody Reign Of Slayer. What's your personal opinion about that book?
It turned out really well, although 30,000 words were cut out of it during the editing process when it was decided that the book needed to reduce in size. That was an unpleasant surprise, but that's publishing.
What can you tell us about the upcoming Machine Head biography?
It's called Inside The Machine and is available for preorder at Amazon now. I'm really pleased with it: I tracked down some interesting original sources and used tons of my own interviews with MH to tell the story. It's crazy stuff. That band are fighters.
Why should metal fans read your books?
Because they're informative and entertaining, and because they provide a perspective that doesn't exist anywhere else.
If you've read (any of) the following books I'd appreciate if you'd share your thoughts about them:
Dave Mustaine – A Life In Metal
Thoroughly enjoyable. Dave is a clever man and a great storyteller. Sure, his book is only one side of the truth, but it's very readable.
Mötley Crüe – The Dirt
Lots of fun. How could anyone not enjoy this? Even if half of it is fantasy.
Nikki Sixx – The Heroin Diaries
Less interesting, unless abject misery is what you're interested in.
Corey Taylor – Seven Sins
An interesting spin on the usual rock autobiography.
Ozzy Osbourne – I Am Ozzy
Should have been longer and more detailed. The same goes for Iommi's book. Both are must-reads though.
Murder In The Front Row
The best metal book in a long time. Harald and Brian are legends.
Since this is a Swedish website I just have to ask you…
Sweden's best band?
Bathory. I also like Grave, At The Gates, Dismember and Entombed – until the late 90s. After that, probably The Haunted.
Sweden's best guitar player?
One of the Amott brothers.
Best record by a Swedish band/artist?
Under The Sign Of The Black Mark, or The Haunted Made Me Do It.
Have you been to any Swedish festival and if so did you like it?
Never, but I'd like to.
And finally, a couple of "choose-between-questions":
Some Kind Of Monster or Lemmy – 49% Procent…?
Probably the Lemmy film, although SKOM has its moments. But I'd rather watch Flight 666, the Iron Maiden film.
Budweiser or Newcastle Brown Ale?
Neither. Can I say Grolsch, Guinness or Jagermeister?
Death Magnetic or Diabolus In Musica?
Diabolus. It has three amazing songs: Bitter Peace, Scrum and Point. Death Magnetic has the occasional interesting riff, but no more.
Wacken or Download?
I've never been to Wacken but I hear it's amazing. I do enjoy Download a lot.
Lars Ulrich or Peter Criss?
Never liked Kiss, so Lars. Or Lombardo, Sandoval, etc.
Nu metal or grunge?
Nu metal, even though most of it is so dated now. Grunge left me cold apart from a couple of Nirvana songs. Even they sound a bit watered-down these days…
Intervjuare: Magnus Bergström/hårdrock.com
För er som vill ha mer info så är adressen till Joels hemsida: www.joelmciver.co.uk/site.html