Exklusiv intervju med Laura Guldemond:
"It's been really amazing"
Rätt person på rätt plats vid rätt tillfälle. Enter: Laura Guldemond.
Mycket nära inpå Burning Witches första konsert i Sverige på Sweden Rock Festival valde sångerskan Seraina Telli att lämna bandet, för att satsa på sitt eget projekt Dead Venus.
Istället för att kasta in handduken och ställa in valde häxorna att leta upp en ersättare. Men snacka om att det var ont om tid… Bandets gitarrist Sonia Nusselder tipsade då bandkamraterna om Laura och vips (nåja) löste det sig.
Som tur var. Burning Witches är nämligen "on a roll" just nu, vilket inte minst bevisas av platsen i lineupen på Wacken Open Air.
Förutom den purfärska rollen som sjungande häxa i Burning Witches (Schweiz) sjunger Laura sedan tidigare i Shadowrise (Nederländerna) och är även inblandad i några andra projekt.
30-åringen från Nederländerna har en röst med ett brett register och klarar av att ta ton till allt från pop till metal – och allt däremellan.
Det var så snabba ryck när Laura gick med i Burning Witches och gjorde livedebut på Sweden Rock Festival, så att vi i publiken knappt fattade någonting… Därför tänkte vi på hårdrock.com att det var lika bra att ta reda på lite mer om den nya häxan.
Nedan följer en lååååånga intervju (obs! på engelska för att inte "förlora känslan") med en pratglad och trevlig Laura.

When did you and/or someone around you notice that you had a talent for singing?
I really don't know. I just enjoyed it from an early age and since I liked it my parents let me do it. I think at one point when I was around 16 years old, I got more interested in music and about four years later I really started to get serious.
Who was the first artist that you became a fan of, the first record that you had and your first concert?
Within Temptation was the first band I became a fan of. But the first record that I bought, with money that I got from my grandma, was Puddle Of Mud with Come Clean. The song that I really like on that record is She Hates Me and I also like the fact that they're not totally serious. After that I bought the Within Temptation record Mother Earth and a lot of their other records and I got some of them signed.
Later on I actually had the Within Temptation guitarist Ruud Jolie as a teacher. He's a funny guy so if you get a chance to interview him you should do it.
The first concert I went to wasn't something that I chose; I went there with some friends and I think it was Family Force 5 (laughs) and that's like hip hop. They were energetic on stage so it was nice. It was more for kids and some would be embarrassed to admit it, but yeah I was there and I enjoyed it.
You're from the Netherlands; how is the music scene there?
There's a lot of death metal and metal core have a big scene. Metal is getting stronger again, I think. From what I've heard the metal bars were full with people a few years ago, and now they're about half. But there is a strong metal scene, because we do have a nice community and actually we have the first official (by the government) metal school in the world.
So yeah, I think the scene is actually pretty good. And of course we have a lot of concert stages with good sound quality. And if we look at other kinds of music there's a lot of hip hop and electronic music.
You took part in the Netherlands Idols 2015. What can you tell us about it?
It was really awesome beacuse I was hoping to do something like that one time in my life. And it was just fun and you have to learn stuff very quickly because at some point they were like "you're getting on a airplane because you made it to the last twenty persons" and then we went to Bali, Indonesia. So that was really cool and at the airport we had to learn a duet and we had to know it the next morning! And we actually only had time to practice it at the airport, so it was a bit stressful because of that.
Anyway, I really liked to do it but I had prefered to have more time, because I want to prepare things and to be good and not just do it. So apart from not having a lot of time it was fun. And of course, we went to Bali and I've never been there before and it was like walking into a tropical garden. It was super hot and tropical, so it was crazy to have that experience. It was awesome!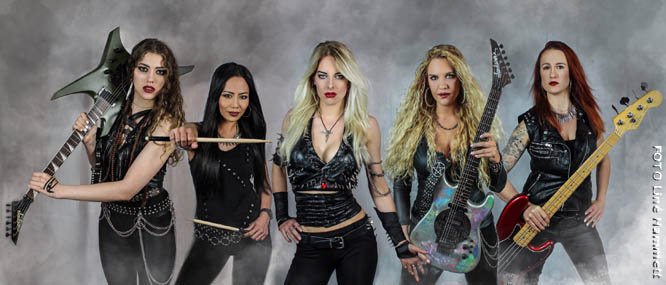 As we all know by now you are the new voice in Burning Witches (more about them later in the interview) and you are also a member of Shadowrise. What can you say about Shadowrise and perhaps something more that you're involved in?
Right now I'm a member of Burning Witches, Shadowrise and Miss. I'm also doing a project, which I'm not sure has a name yet, with a lot of awesome musicians. That record will be out later this year or early next year, I think.
About Shadowrise, well I really like the band. We have great songs and mix different sounds because we don't want to be stuck in one genre. It feels authentic and that is nice – you should check us out!
Miss Kiss Tribute is all females and we cover Kiss songs. But we have trouble to be a complete band, because sometimes someone says "I found something I have to study" or "I have an illness and I have to prioritise things". So it's a bit difficult to get it all started, but we just have to take it slowly and someday it will work. We'll have to wait and see when that happens… At the moment we need a female bass player, so if you have a name let me know!
What can you tell us about being a part of The Theater Equation Choir (Ayreon)?
It was really nice being a part of Ayreon and it was a special experience. You know, Arjen Lucassen never really performs a lot, so it was special that he was doing this thing with the whole theatre production. It was nice because we had to help all the artists to find their place on stage (because we had it taped) and then we had to help them to learn all their pieces in one week. Me and the others had one year (laughs). We did all the choirs of course, but we were also understudies so we helped the artists to find their way during that week.
It was so much fun and to meet all the artists and talk to them was crazy. Of course, they're all professional musicians but when we had some free time there was so much fun. We smoked weed, drank, laughed and shared stories. It was really amazing to meet all the heroes; people you'd think you'd never meet like this. So it was a really great experience and I learned a lot from it.
I was the understudy of Magnus Ekwall; he's a guy that can sing very, very high stuff so they chose me to do that high stuff. Because for the guys that were in the choir it was a little bit tough. Of course, there were a few guys that could do it, like the understudy of James LaBrie (Dream Theater) who also has a really high voice and Jan Willem Ketelears was his understudy.
Yeah, it was so awesome and especially since I really like the aggressive stuff and the songs that are about school, and I really loved to be a part of that.
Are there any artists/bands that inspire you and why?
A lot of artists inspire me! The typical artists like Dream Theater, Judas Priest, Kamelot… The thing is that there are so many…
I like Sia, that's not metal I know, but her voice and the way she write songs is crazy and it's so good!
It can be vocally or technically, they way they are on stage and so on. Alissayah for example; I have the greatest respect for her. She is always there for the fans and she's like "I'm having fun right now doing this song". It feels like she gives more depth to it and, well I don't know, maybe I'll be like that at some point. I definitely take an example of that.
Then you have Alestorm. It's great how much fun Christopher Bowes is and it's always fun to see what he's doing. It brightens my mood!
Yeah so every artist have their own thing.
Alice Cooper is another example. I only like his hits to be honest, but he makes such a theatrical show. In 2015 at Graspop I saw him and it was the best show I've ever seen at Graspop, because he got my attention all the time.
Another example is Judas Priest. They have such a unique sound that it's crazy.
So I think every artist has his or her "great thing". There are always certain things that make bands well known and as I said there's a lot of artists that inspire me. It's difficult to choose just a few…
Do you have one or more dream artists/bands that you'd really like to tour with?
That's a good one! And a difficult one… I don't really have a name you know, because it's really hard to choose someone that fits your music. So I don't know…
Do you have any Swedish favorite bands? And if so please explain why.
Europe of course. That was one of the first bands that I tried to sing along to.
Sabaton! Every time I hear them I really like them but I don't really listen to them. Then when I hear a song that I like I'm like "oh this is a really good song" – and it's Sabaton again.
Twilight Force, Arch Enemy, In Flames, Opeth and I really like Avatar.
Those are the bands that are most important for me. There's a lot of great Swedish bands!

Can you tell us the story behind your Gary Moore-cover Over The Hills And Far Away**? 
I love the Nightwish version so I wanted to do a cover of it, because it touches my emotions so much. I felt that if I should do a cover it had to be that song. I did it together with Jack Streat from my band Shadowrise; he's also my boyfriend so it was fun and it was a really nice experience!
What's the difference between singing your own lyrics and lyrics written by someone else?
That's also a good one! To be honest, I think for me at the moment it depends on which song is it because some songs I write are really just because I like to write something fantasy and some songs are very personal. So there's a difference between the songs I write for myself too, and in the personal stuff you feel more and it brings out more emotions. But you know, other kinds of lyrics… It really doesn't matter, to be honest. I can sing anything it the styles that suits me and if I like the energy of the song. It really doesn't matter what kind of lyrics it is. As long as I like it and can put my own emotions in it that's great.
You're voice is a strong instrument in itself, but do you play any other instrument?
I'm very bad at playing guitar, piano and wooden flute. So yeah I can play, but I really have to practice hard to make it sound nice.
When you're not singing yourself you're a vocal coach; how did you start with that and how is it going?
Well, I did a whole course and now I'm like "let's help other people to sing great too". And if they have a goal to work towards I'd really like to help because I like motivated people. I know how to help them so it's a win/win situation: I get happy and they get happy. So if you want to learn contact me, because I would love to help you. I also do Skype lessons.
You obviously are very interested in putting on a show, since you wear stage clothes that screams "look at me". Do you design them yourself?
I can't really make them from scratch but I do kind of like to put together outifts, and change them a little bit to what I like and what I think fits. Especially for Shadowrise because the theatrical side really fits the music. I actually design the stage clothes for the whole band (Shadowrise).
What I basically do is, I order clothes that I can remake because like I said I'm not really able to do it from scratch. I remake them and I like doing it, to make the whole "show" complete.
I think my interest for designing stage clothes is because I really like to look at people that have it all perfectly put together. Like for example Alice Cooper, Lady Gaga and Rammstein. Bands and artists that I can look at and learn how to look on stage. It's kind of like the same as with the movies; I just love the visual aspect of it.
I've read somewhere that you're into fitness. Do you exercise everyday, even when you're on tour, and do you also think about what you're eating and drinking etc.?
I try not to eat and drink too much shit! I don't exercise every day but I try to do it once every two or three days. I really don't have time for more. There was one point in my life when I practiced about five times a week and I would like to do that, but as I said I just don't have the time – or the energy – to do it everyday.
I like to exercise because my voice really benefit from it. If I'm in really good condition I can sing so much more powerful with ease, and I have more control over my voice than if I'm in a "shit condition". And also, I love "six packs" (laughs)…
So I'm not like a super healthy person. I just make sure I don't eat too much shit. I do eat some Whey Powder, because when you work hard you need that extra stuff.
Also, you've mentioned before that you like movies and since movies and music go hand in hand I have to ask you which your favorite movies are and why?
King Kong by the director Peter Jackson starring Jack Black. I really love it because it is filmed so well and it was so impressive to see. And I love that there's a lot of visual stuff going on. And it's perfect on a big screen and I also like it because there's a lot happening. So I like that it looks good and I'm really in it for the visual spectacle. Well, and a good story, of course. That kind of combination is something I really like.
Marvel movies are always amazing to watch. And movies like Avatar, Harry Potter and Lord Of The Rings.
When it comes to series I'm really into Game Of Thrones and Lucifer. I like the fantasy genre because I like really weird stuff (laughs).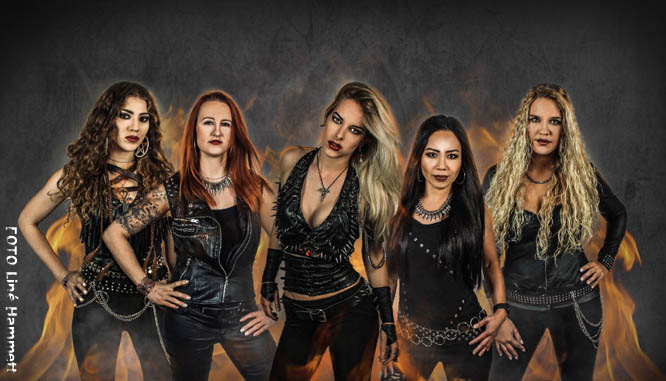 Can you explain your feelings when you got the question about joining Burning Witches and how did they ask you? I'm guessing it was shortly before Sweden Rock.
I was really psyched about it and I was like "yeah I'm going to do this". But then I was like totally depressed, because I had a lot of problems with my voice (laughs). I also had a cold right before they asked, so I was depressed that my voice didn't do what I wanted it to do.
I told them that I didn't know how fast they wanted me to do it and asked them if I should really send examples of my voice at that time, when I knew I could be doing much better then at that moment. They told me I had to send it anyway, so I was really grateful for their trust because it sounded like shit (laughs). Luckily I went full on living as good as I could; sleeping a lot and not drinking at all (except a lot of water of course), recover my voice with Lax Vox and trying to speak as little as I could.
I was also doing voice practicing as much as I could without wearing out my voice again. It was crazy… I'm so glad that my voice recovered!
I think it was like a week before Sweden Rock that I was gaining trust in my voice again, and just a few days before that first concert I was back to normal again and I was so happy. At the last rehearsal back at my home my feeling was like "yes I can actually do this". It really was right in time!
So yeah, it was a bit stressful. They contacted me about three weeks before Sweden Rock and I had to audition so I had to learn everything really fast. And of course get my voice back in good condition.
Just a couple of days before Sweden Rock they sent me the new song Wings Of Steel and that song was released just about one month after I was first contacted by the band. It was crazy!
So I went to them to audition one time, then rehearse and travel to Sweden and then record the new song. All of that and being on airplanes back and forth about four times in about one month time! It was a pretty busy schedule… It's really nice that it all worked out and that they had the trust in me in the beginning when my voice wasn't in a good condition. So I'm really happy!
I'm sure that a lot of people (myself included) are curious about the way the band introduced you as the new "witch singer". Did you all in the band talk about and decide that you should walk up onstage at Sweden Rock as a surprise or…?
I already had a lot of pressure on me, with people recording the gig with their phones and making comments and things. And there would probably been even more pressure if I had been introduced before that concert. So it was decided that it was better to just do the gig and let the world know after.
Because as I said, it was really short notice and there were already a lot of pressure so we deiced that it would be more relaxed for all of us by doing it this way. And also, it felt better to instead introduce me as the new singer with a new song.
Please take us through your day at Sweden Rock and your first concert as a member of Burning Witches; before, during and after the performance.
A lot of excitement! And a lot of agony; am I actually going to nail it because the timing was the worst ever. It really was right after the Sweden Rock concert that they said "you're in the band" and I was like "wow it really happened".
I felt pretty confident before the gig because as I told you my voice was back. And after the show I really could enjoy the rest of the festival and relax. It was great!
At that day I was so focused so I think I can relax more at the upcoming shows and enjoy everything even more.
Only days after that first concert the band released a brand new video for the brand new song Wings Of Steel*. What can you say about it and the recording of it?
I already told you everything about that, so just read above. 😉
And to be honest, it really was more special how fast the guy doing the video editing did it. Fantastic!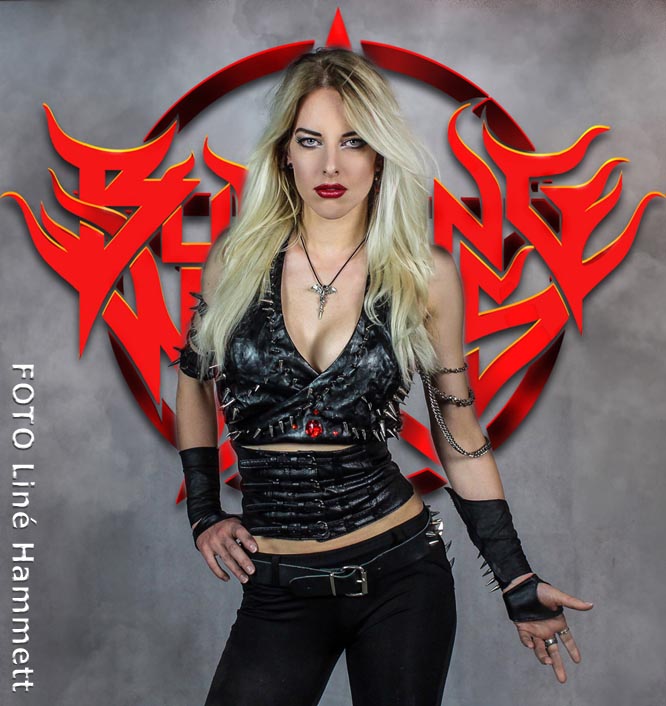 How has it been for you to become a member of the inner circle of Burning Witches?
Wow! It's been really amazing,. They're very welcoming and warm people and I already feel that I'm a part of Burning Witches. I'm really thankful for all the great people helping the band and I'm extra thankful for Sonia because I understand what she says (laughs). I know German but not Swiss German that the other girls in the band often talk.
Do you have anything else to add?
We are working really hard on new songs and we're going to have them out on a new album early next year. And I have to say that I'm really happy about all the reactions I got on the new song Wings Of Steel. I feel very welcomed not only by the band but also by the fans. I didnt know what to expect but I'm really happy about it. So thank you!
Magnus Bergström/hårdrock.com
Burning Witches – Wings Of Steel (OFFICIAL VISUALIZER)
Nightwish – Over The Hills (feat. Laura Guldemond)