Sista juni, äntligen lördag och vi har stämt träff med arrangörerna Linda Höijer och Jessica Gustavsson på GT Event, som för fjärde året i rad arrangerar 'Golden Times' i Degerfors Folkets Park. -Det måste ju hända nå't kul, tyckte Linda som frågade sin kollega om de skulle hitta på nå't och på den vägen är det. Denna gång storsatsning på världsartister för ikväll spelar nämligen Bobby Kimball och Fergie Fredriksen (Toto), Bill Champlin (Chicago) och Joe Lynn Turner (Rainbow, Deep Purple) under namnet 'Legends – Voices Of Rock'.
Jessica möter upp vid gridarna och det visar sig att vi har anlänt alldeles lägligt för en 'intervju'. Vi blir lotsade till området bakom scenen där en turnébuss och bandet står och väntar på oss. Det andra pressfolket har inte dykt upp på utsatt tid vilket ger oss exklusiv tid med de fyra världsstjärnorna.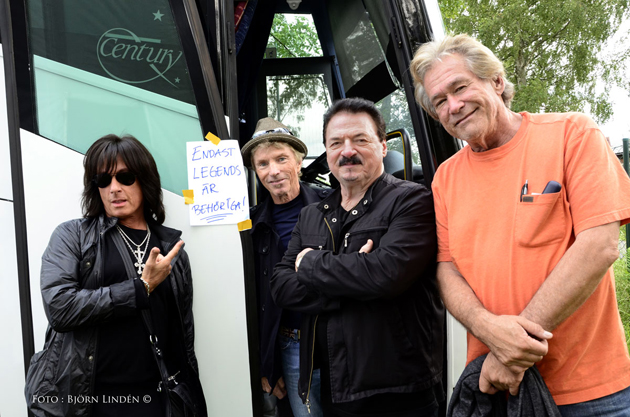 Väl inne i den sommarvarma bussen slår vi oss ned på ena långsidan med de 'förväntansfulla' legenderna mittemot och så ett litet bord i mitten med plats för förfriskningar. Let's start talking!
Det blev en ganska lång diskussion som vi har delat upp på flera delar och det hela avslutas senare med ett bildreportage från konserten, men vi börjar med snackisen…
Bobby Kimball – Toto
Fergie Fredriksen – Toto
Bill Champlin – Chicago
Joe Lynn Turner – Rainbow, Deep Purple (inte med på denna första del…han ramlar in nå'n minut senare)
Ulf Eriksson – Interviewer
Peter Dahlén – co Interviewer
PD – Hello
FF – Hello there – how are you?
FF – And you are?
UE – I'm Ulf
FF – Ulf – nice to meet you
PD – Hello I'm Peter from Sweden – And you are?
FF – Fergie – nice to meet you man
PD – Hello Toto! (Peter hälsar på Bobby…)
BC – He called me Toto man!
PD – Just a question – I've got a recorder – is it ok? Were not the best – you are better in english – if we do some recording while we talk?
FF – Good – but speak english
PD – Yes
UE – We will try to speak english
BK – My swedish is shit
PD – Why?…hahah
UE – That is quite understandable
BK – Why?
BC – Let me grab some water here…
FF – Champ are you ok?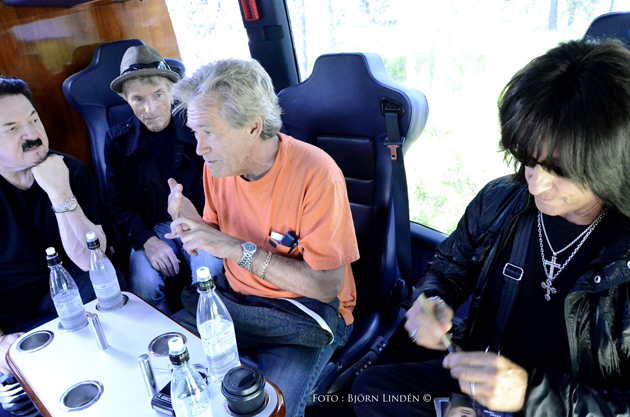 UE – So – how about your european premier here – in this small (smallish) town
BK – You know a lot more about it than I do
UE – This little village is almost only known for it's football team – that soccer – It used to be quite a good team – way back in the 60-ies
BK – Yeah but now they're terrible?
UE – Well they are in the lower league
BC – At least you've got a soccer team – LA doesn't have anything
UE – No you don't
BC – Wait a minute we've got the Kings – We won the hockey championship [NHL] UE – Yes that's true
UE – So what do you think about being here?
BK – We just got here about two hours ago
BC – I know it used to be big in iron
UE – Yes it still is
BC – It's sort of the same thing as in Pittsburgh
UE – Yes it's about the same thing
BC – So they traded the iron for the football team?
UE – No they had the football team with the iron factory – so when the iron factory was good the football team was good – and when the iron factory went, the football went
BC – IRONy
UE – Then its quite good that you came here and broght some nice weather
BC – We were all raised on these kind of gigs – no matter where you are – you can go and play for 30000 people one day – and play a gig like this the next
UE – Yeah – for 300
BC – It's too bad that you can't find a place that's "nice" but it's pretty out here
FF – It's lovely
BK – Actually the three of us – the three of us and this band just got back from Japan
UE – Yeah – I've heard about that – you played 4 gigs in Japan
FF – Yeah it was fantastic
BK – Every night sold out
UE – Sold out – very good. So how did you like that – in Japan? It must be quite a different country
BC – From Sweden?
UE – yeah
BC – Everybody looks the same
UE – In Japan – yeah
To be continued…
Text: Peter Dahlén, Intervjutext: Ulf Eriksson, Foto: Björn Lindén